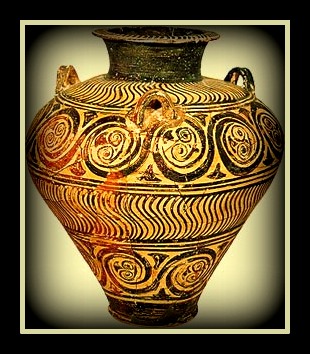 Mycenaean art
 The Mycenaean civilization art arose around the year 1600 BC, compared to the pacific and joyously Minoan Culture was of quite solemn nature and beligerant tendencies. These two cultures formed the basis of which was latter the Greek Civilization.  Is necessary to study this culture to better understand the archaic period of Greek art. The history and legends of the Mycenaean people has come to us by the writings left behind by the Greek poet Homer (c. 750 BC) among other chronics that made also references about them. In those cronics is told that they became the dominant culture of the island; been their influence evident in all artistic manifestations discovered in Mycenae in the Peloponnese region which ruins and ancient artifacts give us today a glance about the interesting life and culture of this civilization.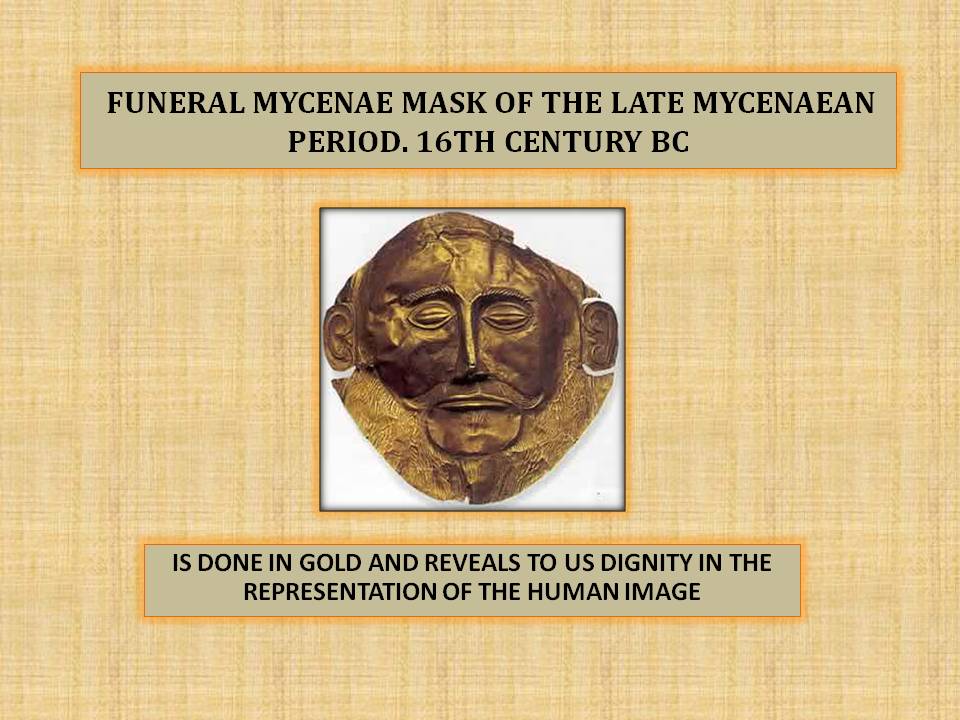 Mycenaean Cultures develop takes place in the age of bronze of the Greek peninsula and succeeded the ancient Minoan culture of Crete. Although the Mycenaean and Greek cultures were two separate entities, they occupied the same lands, successively. The archeological studies made in those territories confirm the differences between them as been to complete separate culture after for many years was considered only one.
Mycenae was a society with hierarchies; the figure of the King was the Supreme exponent of the political and economical power control. The Mycenae or Achaeans, as they called themselves were a fundamentally warrior people whom were also highly specialized in the development of techniques to elaborate weapons, arrows, long sword and armor with sheets of metal and teeth of wild boar helmets (with strength and durable characteristic intended for personal protection in the fight).
 Architecture
 They created architectural elements including cyclopean masonry and "Beehive" tombs, were great engineers who designed and built remarkable bridges. Likewise stands the construction of enormous strengths of stones placed one on top of each other without mortar, which protected their palaces and buildings in general with those asthonished walls.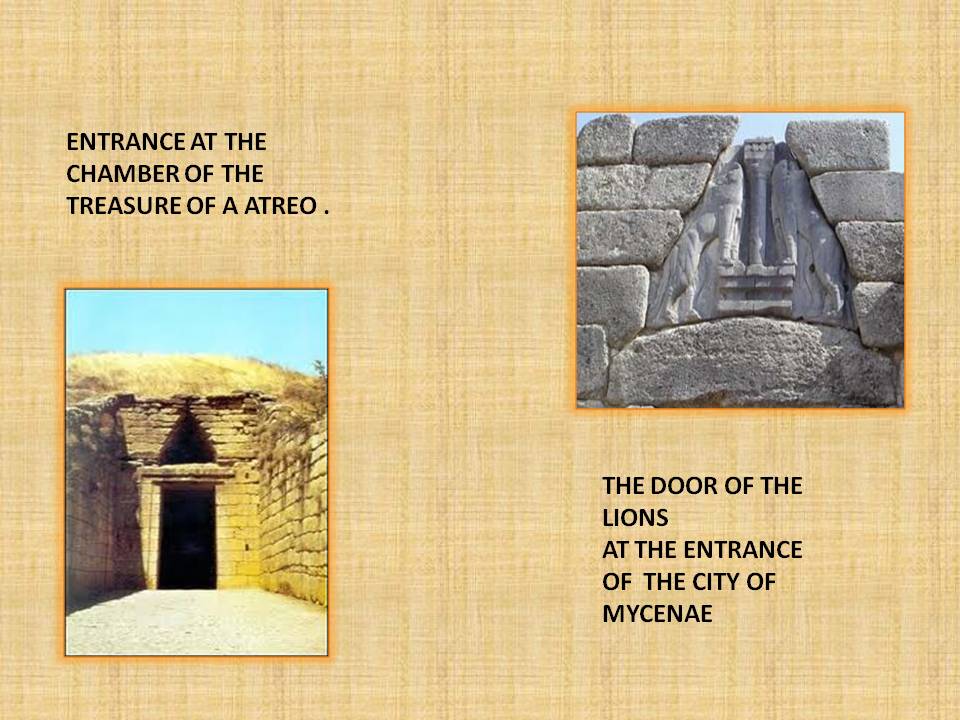 The Mycenaean cities were built  on top of the hills surrounded by these walls mentioned. This factor contributed to succesfully give them advantages from the  strategic point of view. Their buildings were not complex in structure though since they were constructed ssentially destined for practical use. Were built around a central megaron (an architectural form consisting of a porch, vestibule, and large hall with a central hearth) functioned as the king's audience chamber as well.
The structural design they use was an earlier element of Helladic architecture.The Greek learned later from this previous culture, how to build gates and tombs amount other architectural construction techniques. From their architecture are remaining the Lion Gate, and the Treasury of Atreus as two example of a Tholos tomb.
Pottery artisans and jewelry
Mycenaean were impressive potters themselves and prodigious goldsmiths as well; they developed a simply functional ceramics; beautifully decorated with geometric motifs which applied also in the elaboration of objects for personal use. They widely used the gold (for which had special predilection), reached a high degree of mastery in the use of different other techniques and materials as well like bronce and other alloys.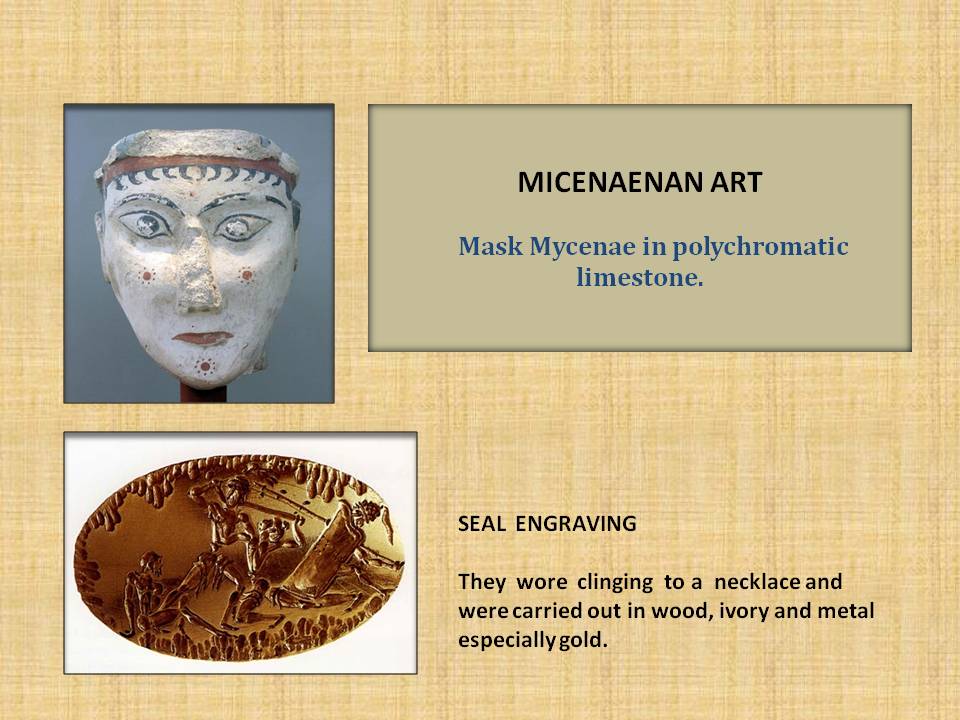 They assimilated elements of the previous culture (Minoan) especially in the artisanal part with naturalistic elements like flowers or animal representation principally seen in the first stage. Are supposed that Etruria's artisans worked for the Mycenaeans leaving their mark in the pottery and jewels.
Some of their inventions to develop the various objects for everyday life use were extraordinary. They make as well luxury items, such as carved gems, jewelry, vases in precious metals, and glass ornaments showing remarkable skills and attention to details resulting in formidable pieces. Many of them marvel us today for their beauty making us wander how in such remote times they could reach that mastery with pretty much rudimentary utensils and tools. They were skilled traders also carrying wine, oils and spices all over the region along many other objects of their own creation been respected and even afraid since they were fierce warriors.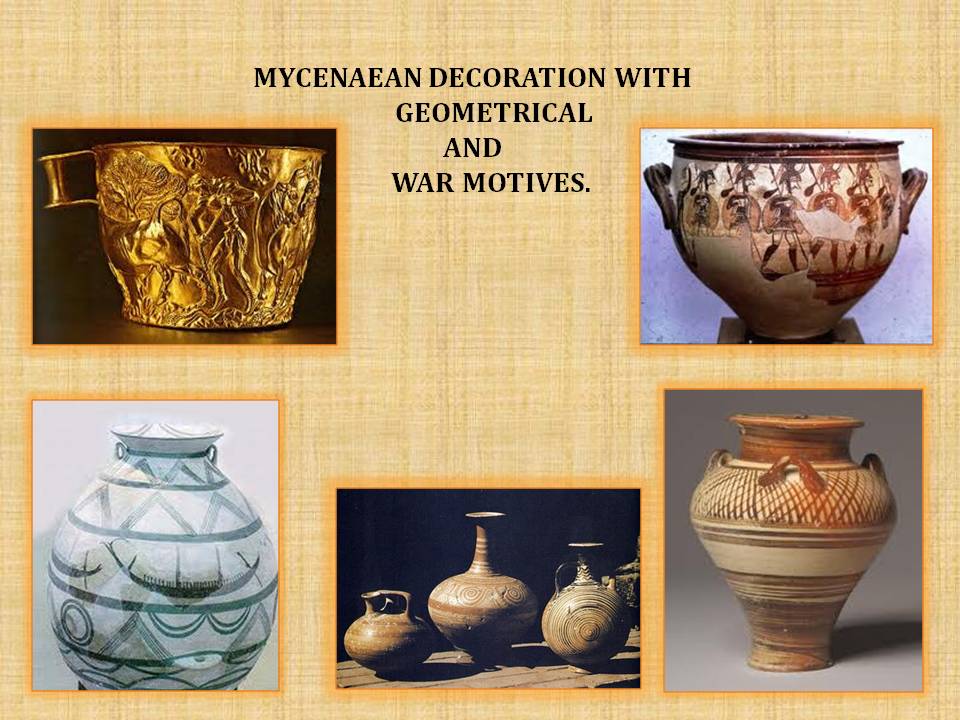 The fragments of Mycenaean paintings found in Tiryns, Pylos and Greece, represent what is presumed were impressive murals both Mycenaean and Minoan. These paintings were not the frescos type as traditionally has been known by the Egyptians murals, in this case the Mycenaean elaborate theirs by applying paint to tempera on dry plaster as well.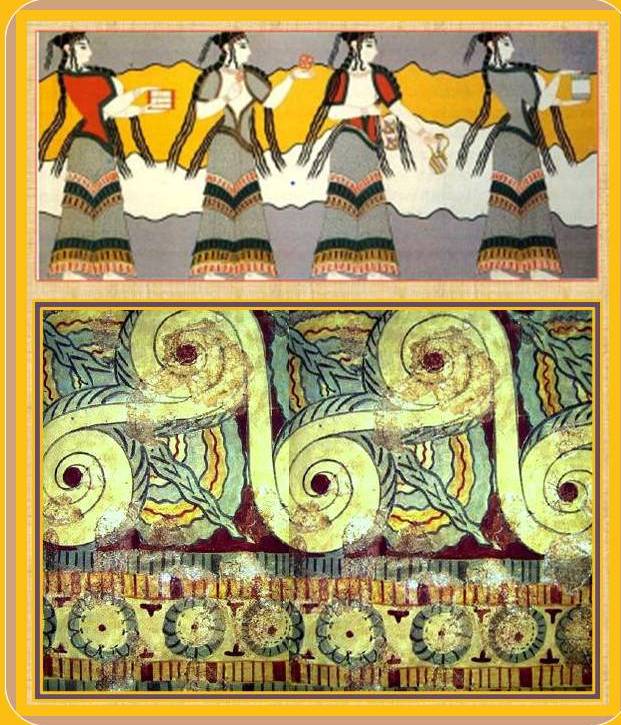 Topics of Mycenaean murals include everyday life event and depictions of war scenes as well of hunting, sacrifices representations, processions, mythology and legend and of course reference to nature since they inherited this inclination from the Minoan. Their scene representation do not care particularly for the spatial order been however pretty stereotyped. They represent the figures over an essentially plain background; like is they were cut off or outlined over that background.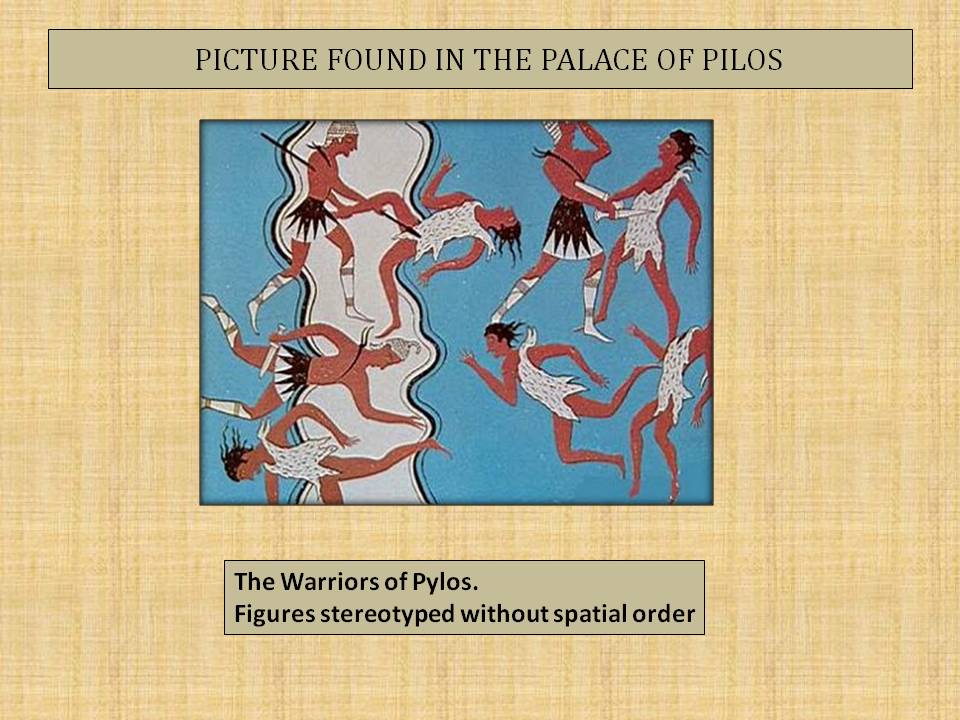 Religion
Not much is known about the religious practices of the Mycenaean and that include the name of their Gods. It things though that Poseidon was a popular deity. Other Gods included:
–          The Lady of the Labyrinth.
–          Diwia (Sea Goddess)
–          Zeus.                                   
–          Hera.
–          Ares.                                   
–          Hermes
–          Athena.
–          Artemis.
–          Dionisos.
–          Erinya.
The scarce temples or shrines remaining where religious practices might have been performed don't say much about the insight of their religious believes. Has been assuming all rituals took place on open ground or in sanctuaries high in the mountains although for the lack of evidence these are only assumptions. Nevertheless it is know that the Minoans had a strong influence on most of the religious rituals practiced by the Mycenaean.
The Mycenaean civilization collapsed around 1100 BC. Its final marked the end of the age of bronze in Greece. It was followed by a period of one hundred to one hundred fifty years called 'dark age', of which very little is known. When the prehistory ends; it begins the period of recorded history. This fact marks a very important milestone in the development of the evolution of human communities and their awareness as cultural entities.