Is Art History a Science?
The history of art classify the information about men's art work and systematizes this one according to historical periods, geographic regions, social aspects, artistic techniques and styles, so if we consider that science is an organized system of knowledge and the methods required to obtain them, well; then we can say that the history of art is a science; even though depends greatly on other disciplines to create this system of classification and maintenance of the art works that form the artistic heritage of the Nations.
The history of art lies within the social sciences that are those that focus their study on the activity of the man as part of a civilized collective . The object of these Sciences is to know the causes and consequences of human behavior from an individual and social perspective. Although in the history of art specific case; these studies revolve more around the artistic objects left behind by men in the full range and diversity in which they are grouped and classified for a better understanding by styles and historical periods.
When did the study of the history of art started?
Art history began as academic discipline at the end of the eighteenth century with the creation of the first museums, getting a great input at the end of the ninety century in Europe with serious research by authors whose work pave the way to the twenty century art specialist, but the studies about the humankind art work has precedents that date to the ancient times.
Empirically and throughout history there have been several people as philosophers, artists, historians, religious figures and even kings and Emperors who written about what they had witness in relation to the development of the art works they so much appreciated, some trying to organize some sort of classification at the same time that diligently work to safeguard those art works. A good example was the writer, architect, and Italian painter Giorgio Vasari in the Renaissance period and others art lover's who contributed to uphold the artistic heritage and valuable information of individual artisans and artist, as well as the historical facts that influence their creations.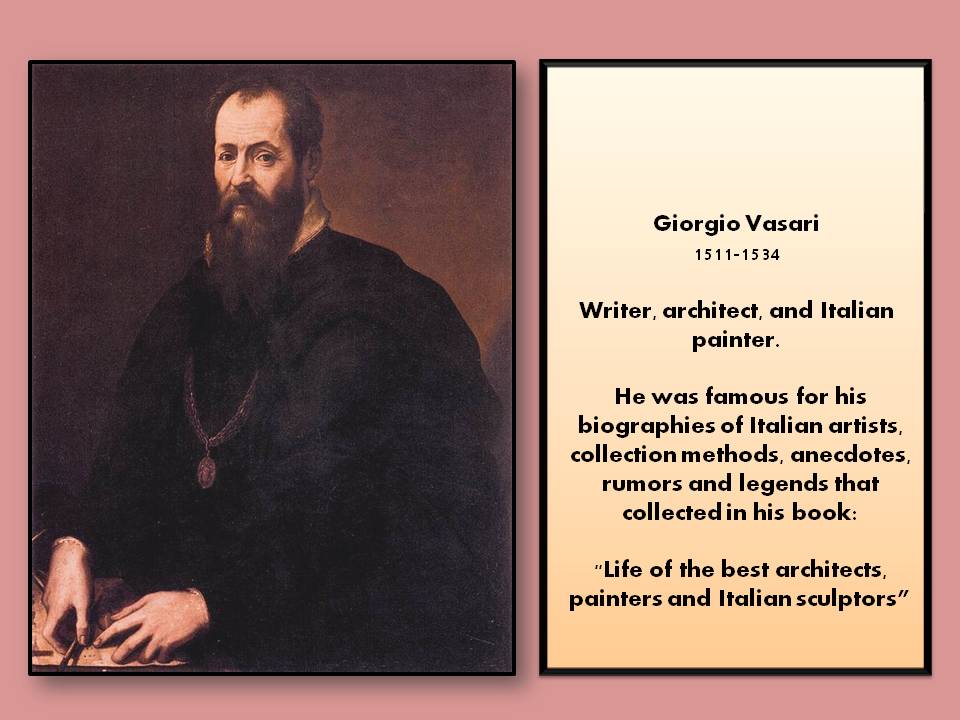 It is also worthy of mention that many artistic works were saved thanks to had been kept in collections of individuals that have preserved this heritage for pure art's sake but also because envisioned the monetary value as an economic investment. Known as Maecenas they helped to create works of art financially sustaining artists at the same time they contributed to keep save their art work and in good physical condition. Many keep a very helpful historical account and specific information related to those art pieces as well. Such is the case for example of the patron Jean I of Berry in France thanks to which we can today enjoy magnificent illuminated manuscripts commissioned for him to the Limbourg brother's.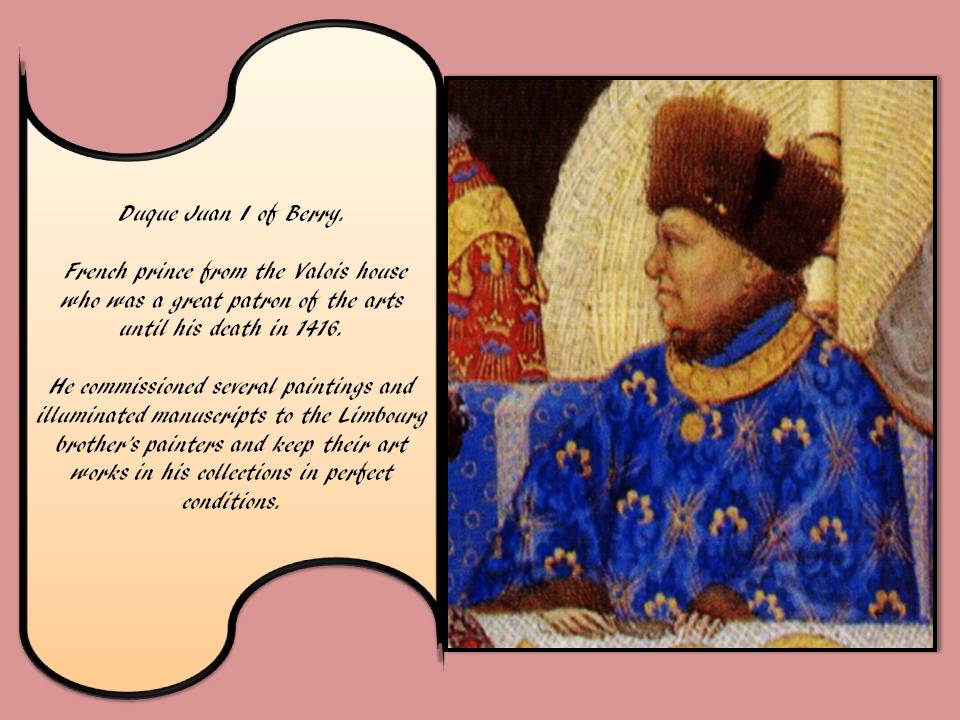 The Emperor of China Qianlong who was a major patron of art was a great collector, and acquired much of China's "great private collections" by any means necessary reintegrating their treasures into the imperial collection. Qianlong lavished the imperial collection with his attention and curator efforts; collecting carefully the art market in rare paintings and antiquities, using a team of cultural advisers. Sometimes, Qianlong would pressure or even force wealthy courtiers into yielding up value art objects: he did that by pointing out failings in their work, which might be excused if they made a certain "gift," or, in a couple of cases, by persuading the proud owners of those pieces that only the secure walls of the "Forbidden City" and its guardians could save such precious painting from theft or from fire.
This tactics were not exclusive from Qianlong since many kings and important wealthy figures along mankind history accumulate important amount of art work; buying them or by other not so clear or legitimate methods.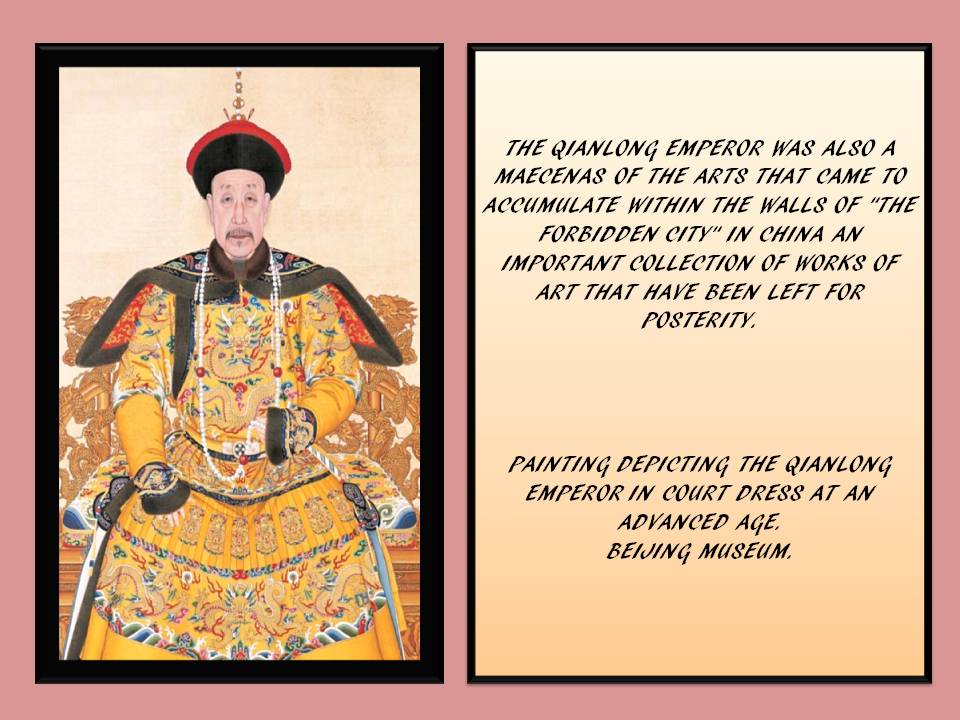 The cathedrals and churches as the owners of many important works of art had managed to keep them from being looted or destroyed; as much as it was possible, thanks to which today we can still see important manuscripts and beautiful ecclesiastical paraphernalia dating from Byzantine, Romanesque, Gothic and Renaissance periods. Other religious cults as Buddhism have managed to preserve the important works of art despite the wars, invasion and prosecution of their religious beliefs, as they did with for example the amazing collection that Buddhist monks kept hidden in the Gobi desert and was finally discovered after a Millennium in anonymity, or the hundred of hidden sculptures also found in India and sealed from the world.
The Mogul emperor in India Akbar (1556- 1605) was also  an art patron  responsible for the explosion in creation of magnificent art works in with the paintings from his imperial workshop highlighted and many have been preserve in very good conditions.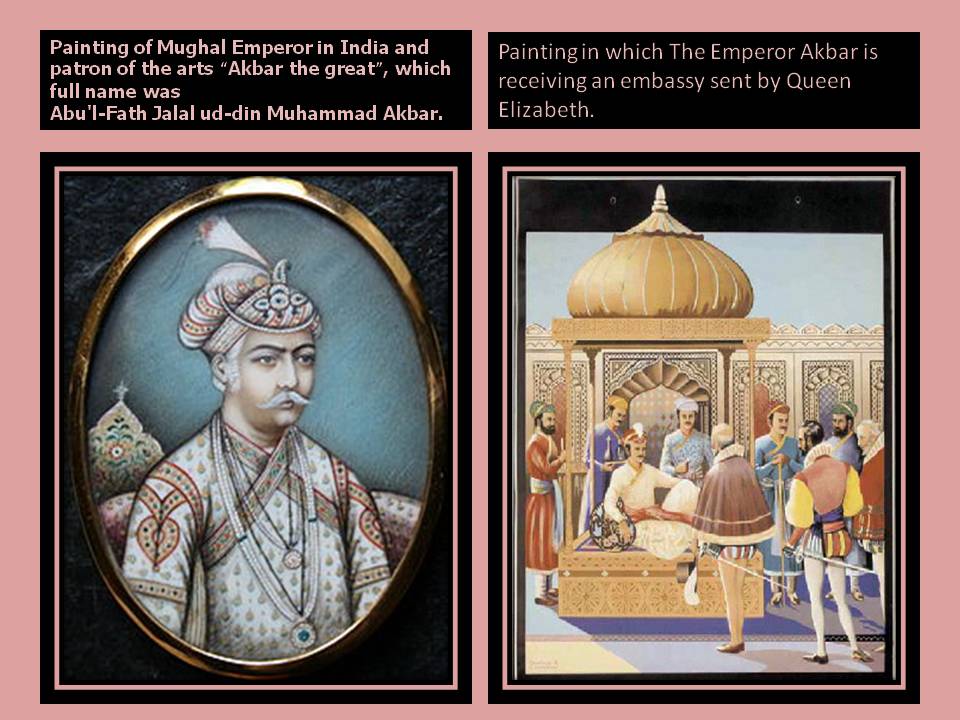 There are many other names of individual collectors and important figures than can be mentioned that are related with the gathering of artifacts through history in different ways and who bundled in many cases this collections with important information and clarification about them, but the list would be extensive. Nevertheless their empirical work; regardless of their motives, have help to gather important historic information about those artifacts, but also to count with some sort of base, upon which specialist are rely  in order to classify and organize the art history studies.
Other facts about the studies od Art History
The art history studies did not get  the same impact in all countries at unison since its formation, mainly because of social, historical and political reasons. Its heyday began in Europe and then in the last sixty years also in United States not being until the middle of the twentieth century that this interest in the study of art spread to Latin America. For countries who endure financial  difficulties and  lack possibilities in the Art History studies had been vital  support from more developed nations as well as from some important organizations such as UNESCO.
The accumulation of knowledge that form part of the current classifications of art history periods, trends and artistic styles are subject to constant changes  as the results of multidisciplinary studies and modern scientific techniques  provide them with new additions  to update  the database .
First and foremost there is the need to form specialist in those regions that can be ready for such challenges and  them; a very important fact this one, that they can reach systematically the updated informations about the new findings and research. But without the right tools  and adequate financial budget  is not possible to obtain the optimums results.
Since the 20th century there has been an effort to re-define this discipline to be more inclusive of non-western art, art made by women, and vernacular creativity. The era of digital technology has helped to bring this knowledge to all Nations and the masses based precisely on the possibilities that digital medium and the internet facilitate.